Allison Creek - Lake Wylie
Allison Creek Peninsula is surrounded by Big and Little Allison Creek inlets, two of the most desirable recreational areas on the lake. At the point of the peninsula, Allison Creek flows into the main channel of Lake Wylie.
The community is comprised of a group of individual property owners and the subdivisions of Mariner's Bluff, Mariner's Watch Cove. Palm Tree Cove and Palm Tree Cove II. Outside the subdivisions, you will find "river cabins" as well as million-dollar mansions. Lake Wylie real estate is available on Allison Creek on a limited basis.
Allison Creek's 250+ homes are located in the Clover School district off Hwy 274 - Hands Mill Road, in the 29745 (York) zip code area. Allison Creek Homeowners' Association exists as a voluntary organization to improve quality of Lake Wylie life along the Allison Creek Peninsula. Mariners Watch Cove, Mariners Bluff, and Palm Tree Cove each have HOA's that maintain landscaping, lighting, and other amenities within those individual neighborhoods.
Mariner's Bluff
Palm Tree Cove features a neighborhood pool, walking trails, and dry boat storage. Prices for interior homes start in the low $500's. Waterview and waterfront homes carry higher prices. Palm Tree Cove II features interior homes from the mid-$300's to $600's, with waterview homes priced higher.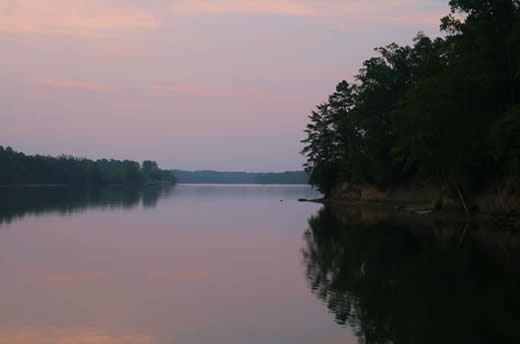 Beautiful mornings on Allison Creek...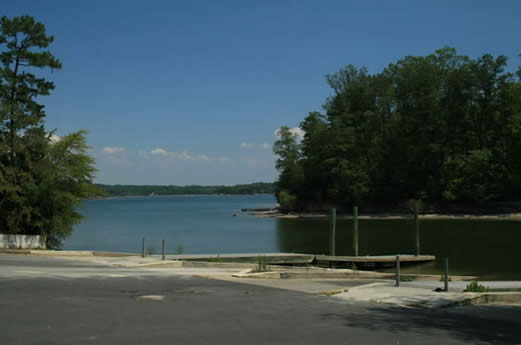 Allison Creek public boat ramp is a convenient place for residents to launch their watercraft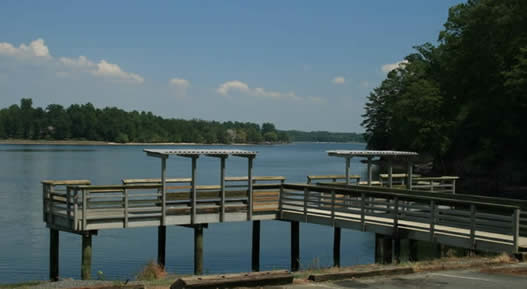 Public pier on Allison Creek has been a favorite fishing spot for many years.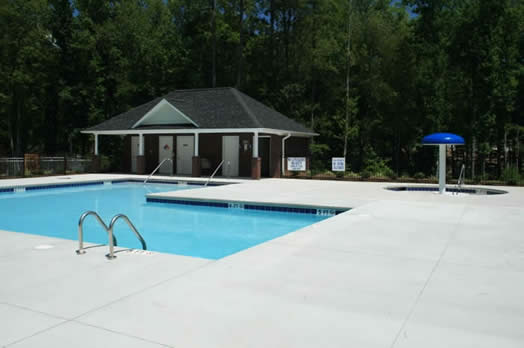 Palm Tree Cove has a neighborhood pool with a kiddie play area. This pool is available for residents of Palm Tree Cove on Allison Creek.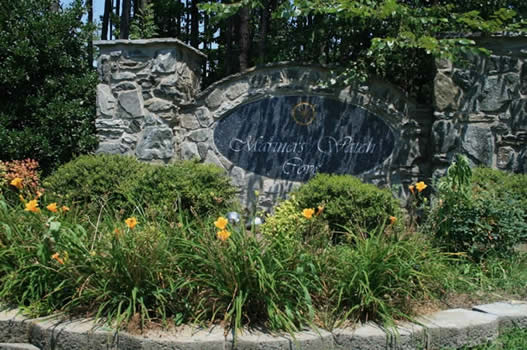 Mariners Watch Cove is a waterfront neighborhood off of Allison Creek Road.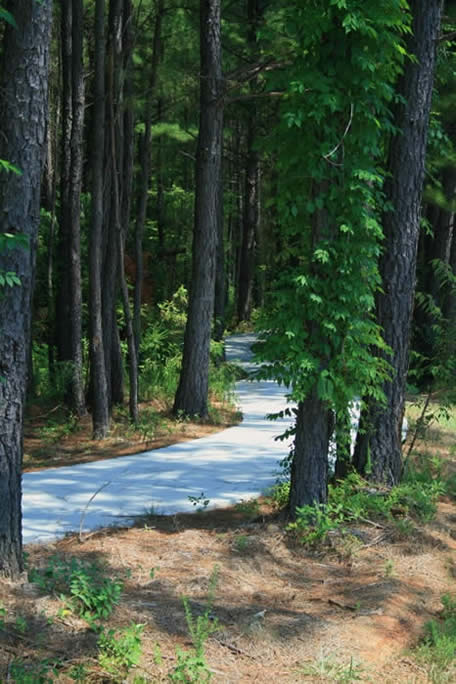 Winding walkways are a popular place for neighbors to stroll. Walkways join Mariners Watch Cove, Mariners Bluff, and Palm Tree Cove along Allison Creek Road, and many residents of Allison Creek Peninsula enjoy walking on the pathways, visiting with their neighbors along the way.
Several "river places" from yesteryear still survive on Allison Creek.
Lake Wylie Real Estate
Allison Creek Peninsula - Mariners Watch, Mariners Bluff, Palm Tree Cove
For information about Allison Creek and Lake Wylie real estate, please contact waterfront sales experts with The Lake Wylie Man real estate team. Allison Creek Peninsula is a community that includes many private residences, quite a few second or "vacation" homes, and a few developments: Mariners Watch, Mariners Bluff, Palm Tree Cove, and Palm Tree Cove II.
New construction homes are readily available in Palm Tree Cove II. Resale homes are available on a very limited basis in Mariners Watch and Mariners Bluff, and other areas on Allison Creek Peninsula. A few undeveloped waterfront lots are available in Mariners Watch and along the Peninsula as well.
The Lake Wylie Man realty team, affiliated with Wilkinson ERA, can serve you in all of your Lake Wylie real estate needs, whether searching for the perfect waterfront lot, a new or established house for sale on Lake Wylie, or in selling your home or lot on Lake Wylie. The Lake Wylie Man consistently sells the most Lake Wylie waterfront real estate!
The Lake Wylie Man Realtors® are licensed in both NC and SC, and service all of the Charlotte lake area, including Belmont, Tega Cay, Rock Hill, Charlotte, and Lake Wylie. Restrictions and regulations for Lake Wylie real estate can be tricky; be sure to consult a waterfront specialist!