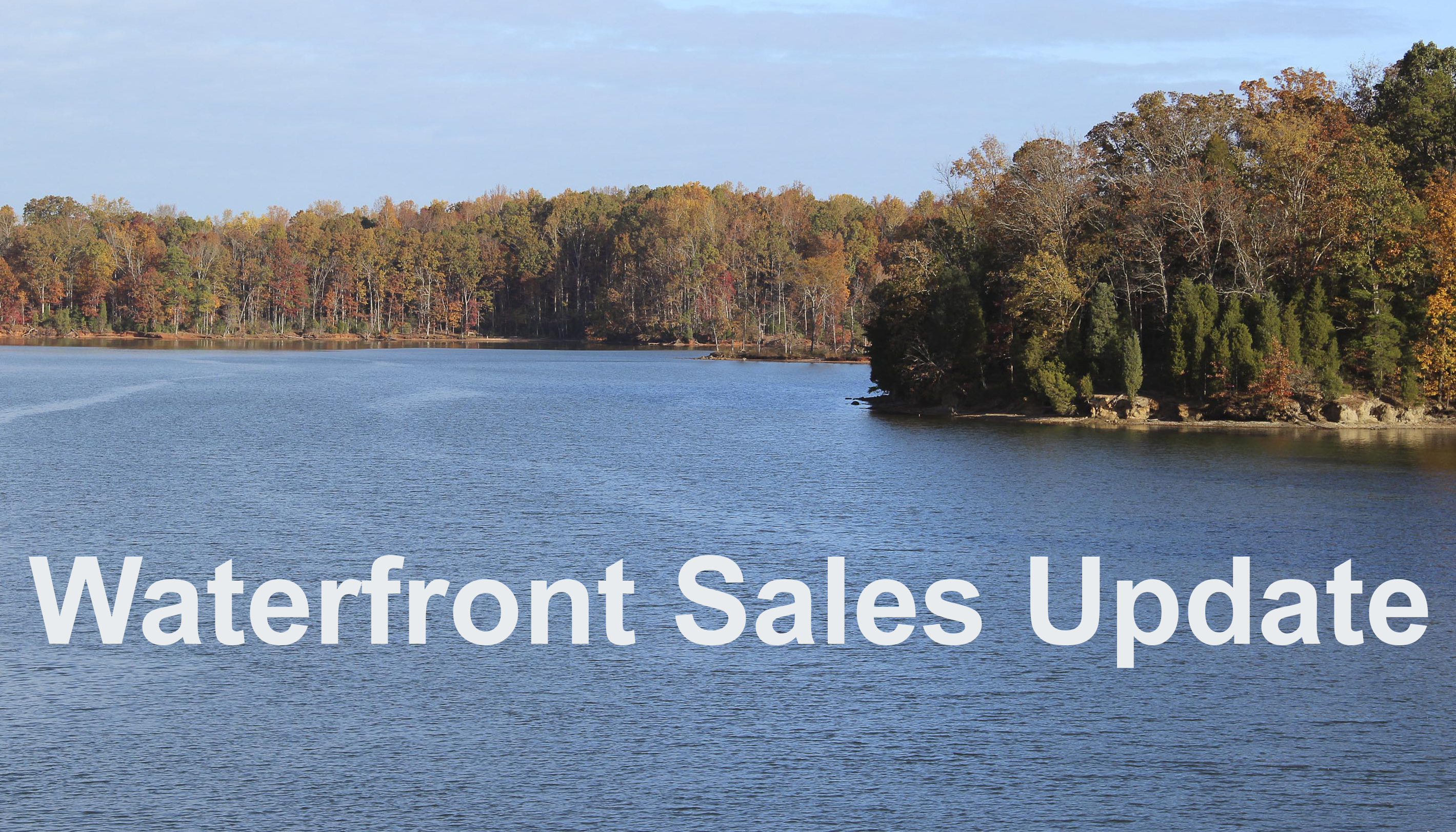 Lake Wylie Waterfront Market Sales
As of the end of Third Quarter 2017, the Lake Wylie waterfront real estate market was lagging in closings by 8 homes vs last year, but still posting some very positive market trends. In addition, waterfront LOT sales were at an all time high, with 56 closings to date. That is more than the year end number for any year in the past decade! Some of the market highlights:
Average waterfront home sales price is just over $700,000 - highest since 2008!
Average time on market for waterfront homes is just 145 days, fastest since 2007
Average WF home sales price is 94% of the original price, best performance in over a decade
Waterfront lot sales prices average $258k, highest since 2010.
Number of waterfront lot sales is the highest in over a decade
A 3.6 acre lot on Tynwald Ct. in Charlotte (located in The Sanctuary but not part of the neighborhood) sold for a remarkable $601,000 in September. It had been on the MLS for more than TEN YEARS.
Twenty percent of waterfront lots sold so far this year had time on market in excess of 1,000 days. Some seriously "old" inventory is beginning to clear out.
Listings are at a low point, both for waterfront lots and waterfront homes. Lack of inventory is affecting market dynamics significantly.
Waterfront Sales trend over time:
The solid blue bar represents number of waterfront home sales through 3rd quarter of each year. The red striped bar represents waterfront lot sales. While 2016 hit record levels for home sales, 2017 performance follows closely behind. If it weren't for the shortages in inventory (number of listings available), I feel sure that this year's performance would surpass last year's. In DOLLAR sales, however, 2017 is ahead of last year and is at record levels, with $76.5 million in total waterfront home market sales. That's about 8% above last year.
Waterfront LOT sales are at record numbers, with 56 lots closed to date, and 11 currently under contract. Average price of waterfront lot sold on Lake Wylie this year is $258k, the highest since 2010 and a 12% improvement over last year. Lot sales by area:
19 lots in Belmont, averaging $188k. Highest priced lot in Belmont was $500k, in McLean. Lot sales in Reflection Pointe brought the average price down, with 12 lots sold at an average of $160k.
17 lots in the Clover School District, averaging $291k.
13 lots sold in Charlotte, average price $319k. Three sales in The Sanctuary (or adjacent), plus a couple of premium priced lots in The Palisades area brought the average sales price up.
2 lots in Rock Hill (average price $285k), and 2 lots in Tega Cay ($337 average price.)
Sales price trend is as follows: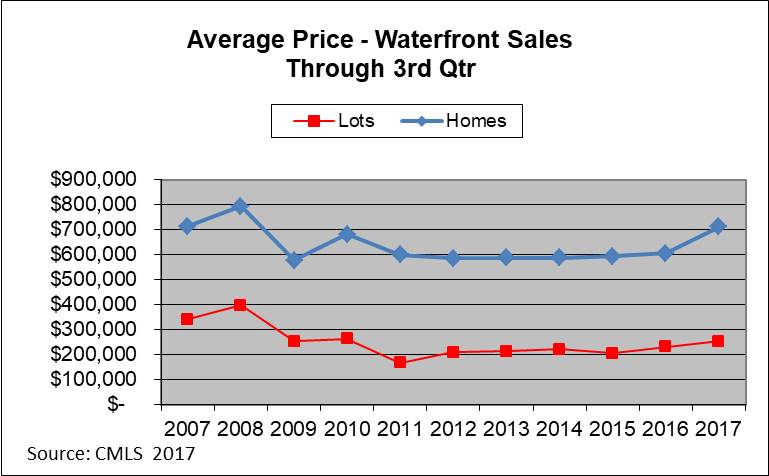 The blue bar (on top) represents sales price for waterfront homes, through 3rd quarter of each year. The red (bottom) line is average sales price for lots. After several years of "flat" performance, the average prices are ticking upward. This doesn't necessarily translate to price increases on individual properties, however. Rather, the average price is driven more by the mix of properties purchased. This year, we've seen RECORD LEVEL sales of $1 million plus homes, and have seen an increase in PREMIUM waterfront lots.
McLean homes and lots represent a premium priced waterfront development, however its impact has not been significant yet. The higher priced lot sales are scattered all over the lake: Handsmill in York, The Sanctuary and The Palisades in Charlotte, Woodland Bay, Reflection Pointe and McLean in Belmont, Fort Mill/Tega Cay, Allison Creek, Concord Road. As home inventory tightened up, buyers turned to waterfront lots to build their own homes rather than buy established.
Million-plus dollar home sales were scattered around the lake as well: a couple in McLean, a few more in Belmont, York, Tega Cay, quite a few in "non-neighborhoods." In addition to the 16 homes sold to date in the $1 million category, there are 11 currently under contract. Four of these are new construction (McLean), and may not close in this calendar year, depending on completion schedule. In 2016, there were 15 sales in this price segment for the entire year, so already we're significantly ahead of last year's record breaking numbers.
New homes in The Vineyards on Lake Wylie (upper lake area) have several sales in the $800's and $900's, newer construction homes not found in abundance on the southern part of the lake.
Waterfront Homes by Price Point:
In the chart above the blue bar represents last year's sales through 3rd quarter, and the red bar represents number of waterfront homes sold this year. Sales surpass last year most significantly in the $1 million plus segment, followed by homes in the $500-$799k segment.
The GREEN bar represents number of homes currently listed in each price segment, and the percentage differences below the chart depict listings vs. last year. The most dramatic story is in the lower priced homes, where there are just 9 homes currently listed (including some under contract!). Stacked up against "demand," more accurately represented by last year's sales, you can see that the decline in sales for homes under $500k can be blamed on lack of inventory, which is about 71% lower than it was last year!
Inventory in the $500-$799k segment is down 22% vs last year, and sales for this year show a modest increase over last year's, in spite of the inventory shortage.
Inventory in the $800-$999 price range is probably the "healthiest," with a good number of choices relative to the number of buyers. In the $1mm+ segment, homes available still outweigh demand, but with the increase in demand in this price category, the outlook is improving over what we've seen in recent years. There have been quite a few new listings in this segment, and more than a third of this year's sales have occurred with homes on the market less than 2 months.
Waterfront properties are selling faster and for more money. Inventory is low and demand is high. You can find details for recent waterfront sales here. If you would like to discuss your property in more detail, please feel free to send me an email or give me a call.


*All information provided is deemed reliable but is not guaranteed and should be independently verified. Copyright by The Lake Wylie Man, all rights reserved.