Tega Cay SC
Waterfront Community on Lake Wylie
Tega Cay means "beautiful peninsula," and the name is appropriate. This heavily-wooded lakefront community is located on a 1600 acre peninsula on Lake Wylie in South Carolina. Only 20 miles from Charlotte, NC, the waterfront community offers a 27-hole golf course, tennis courts, walking trails, waterfront parks and beach on Lake Wylie, marina, and its own police department and Emergency Squad.
Tega Cay began development in 1970. Early real estate followed a Polynesian theme, and street names followed the theme as well: Molokai, Kailua Circle, Tana Tea, Palmyra. New subdivisions and homes for sale are currently being developed in Tega Cay, so available real estate offers quite a variety of home styles and prices.
Almost 11,000 residents live in Tega Cay, with rapid growth in the past few years as the boundaries were expanded. Newcomers find it easy to meet others, with lots of activities, clubs, and recreational opportunities. The city is part of the excellent Fort Mill school district.
Lake Wylie real estate is widely available in Tega Cay, with a mixture of new construction, established homes, townhomes, and a limited number of waterfront homes. Tega Cay real estate always contains a good selection of homes in a variety of price ranges. Waterfront homes are available, as well as homes along the golf course.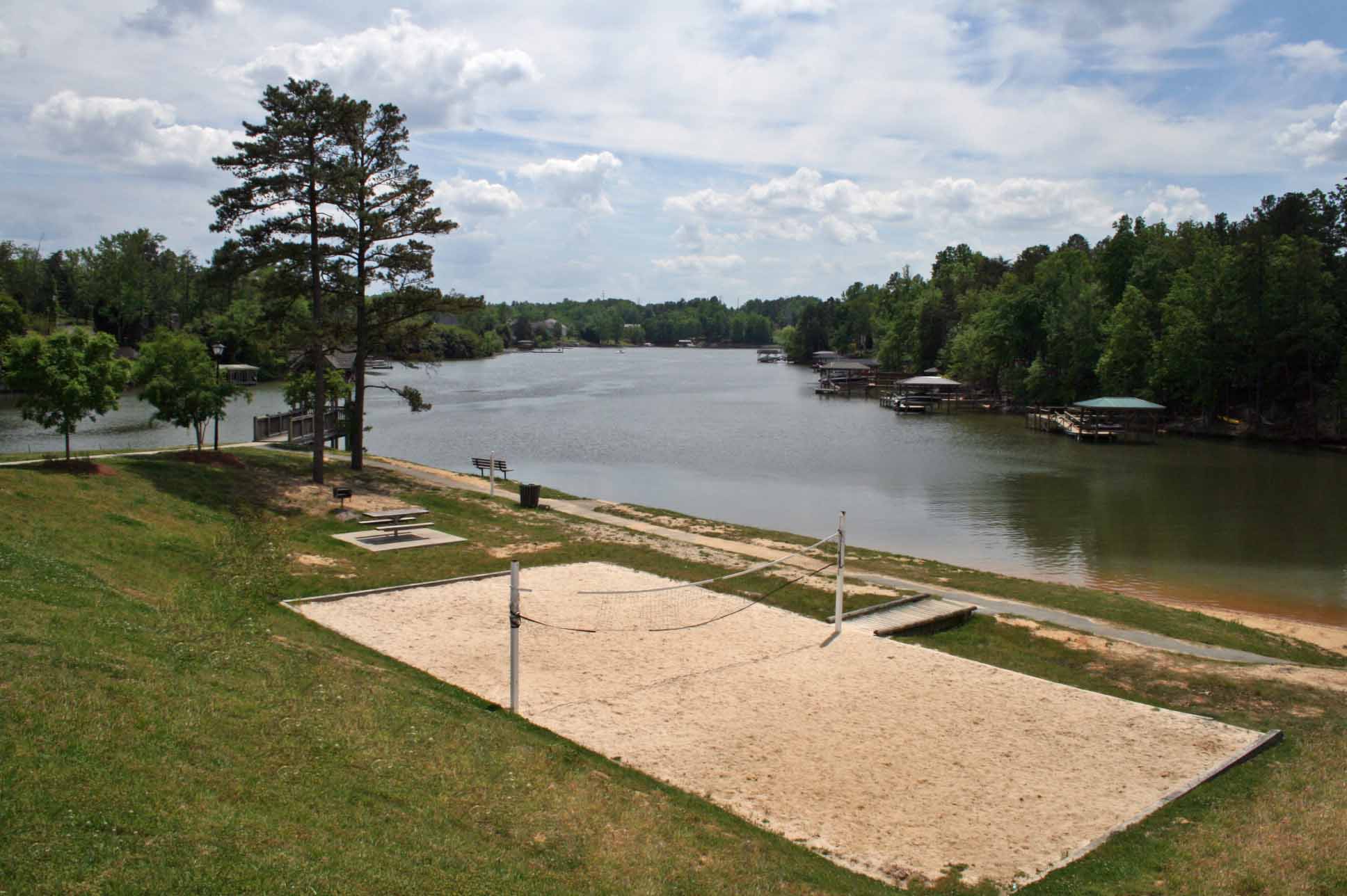 Residents of Tega Cay enjoy the beach at Windjammer Park and the waterfront park in the Lake Shore section.
Award winning golf courses are available in Tega Cay. Golf course real estate is available on a limited basis, mostly established homes for sale.
Several ball fields available for organized league play
Tega Cay Real Estate
Lake Wylie Waterfront
For information about Tega Cay and Lake Wylie real estate, please contact waterfront sales expert Drew Choate, The Lake Wylie Man . The Lake Wylie Man specializes inTega Cay lake real estate, particularly on Lake Wylie. Waterfront real estate transactions are unique, with special considerations involving lake regulations, building issues, and changes in lake environment that impact the value and use of waterfront property. Rely on a lake expert to find you the best value on Lake Wylie. Use our free Tega Cay real estate search, no sign in required. The Lake Wylie Man has led the market in waterfront real estate transactions each year for the past decade!