Woodland Bay - Lake Wylie
Woodland Bay on Lake Wylie is a gated community on the South Point Peninsula of Lake Wylie on Highway 273 – South New Hope Road across from Daniel Stowe Botanical Garden in Belmont, NC. There are approximately 60 home sites in Woodland Bay, with just a few undeveloped. Home prices are usually in the $1.5 million range and are rarely available.
The community consists of large wooded lots in a beautiful natural setting. Lake Wylie waterfront lots and waterfront homes are currently available for sale in Woodland Bay. Minimum home size is 2000 square feet, and home plans must be approved by the Woodland Bay Architectural Review Board. Property Matters Realty in Gastonia manages the HOA.
Waterfront properties are eligible for private docks. For other homeowners in Woodland Bay, there is a small marina with dock slips available for approximately $525 per year.
See Woodland Bay on Lake Wylie Covenants and Restrictions for more information.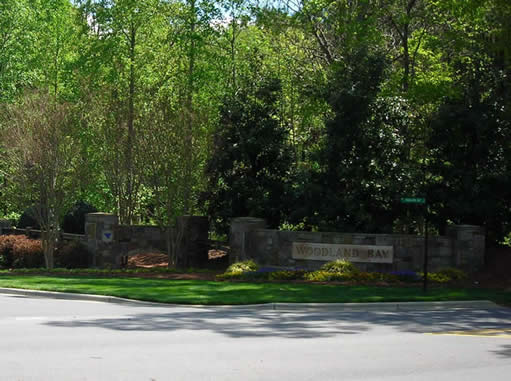 Entrance into Woodland Bay on Lake Wylie. Lake Wylie real estate now available.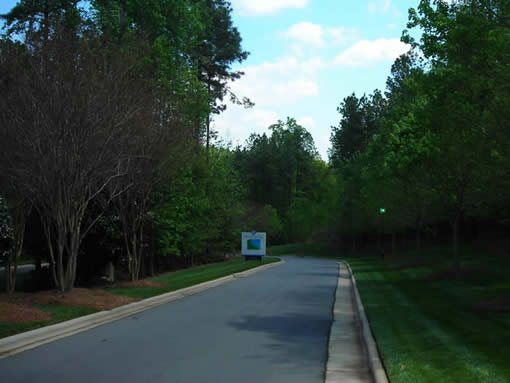 Curbed drives lined by trees and gas lanterns provide a warm welcome into Woodland Bay.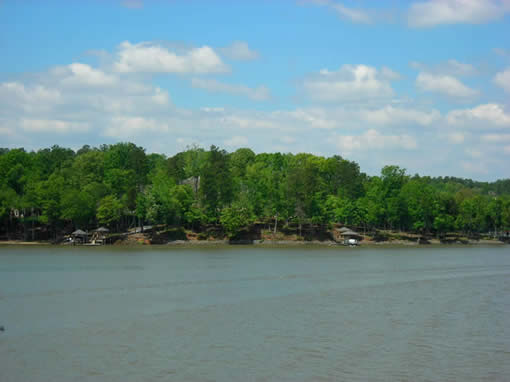 View from Lake Wylie waterfront lot for sale in Woodland Bay
Lake Wylie Real Estate
Lake Wylie Waterfront
For information about Woodland Bay and Lake Wylie real estate, please contact waterfront sales experts on The Lake Wylie Man realty team. The Lake Wylie Man real estate agents can serve you in all of your Lake Wylie real estate needs, whether searching for the perfect waterfront lot, a new or established house for sale on Lake Wylie, or in selling your home or lot on Lake Wylie. The Lake Wylie Man realtors consistently list and sell the most Lake Wylie waterfront real estate.
Buying and selling Lake Wylie waterfront property can be tricky. The Lake Wylie area includes three counties, two states, and multiple municipalities, each of which can have its own rules and regulation. In addition, all of the lake falls under Duke Power's lake management. The Lake Wylie Man can guide you through to a successful real estate deal. Consult the waterfront expert before buying or selling waterfront property!
View the best properties now available on Lake Wylie!
From the office of
The Lake Wylie Man
Wilkinson & Assoc.
803-818-0704